Effective Chinese Camp since 2013
Due to the COVID-19 pandemic, this year's summer school is provided online.
Regular on-site summer camp program will resume when it is safe to do so
Teaching Method:Distance learning (Zoom meeting)
June 15 to August 17 (5 weeks)
3 lessons/week,
2 hrs/lesson Monday, Wednesday and Friday 1:30 pm – 3:30 pm
Teachers 師資:<進階班> Wendy老師,Grace老師, 丁老師 <基礎班> 葆央老師, Ashley老師
南灣中⽂學校將於今年暑假提供5週的暑期中⽂網路學習課程。透過Zoom平台 的教學,我們的暑期課程不但能幫助學⽣不間斷的接觸中⽂,並能加強中⽂⼝ 語會話與聽⼒能⼒,有效提升中⽂程度。暑期學校的課程內容將以輕鬆實⽤的 ⽣活主題,搭配介紹各種中華⽂化節慶等有趣內容,讓學⽣既可以磨練語⾔能 ⼒,更能增進以中⽂來思考與表達的程度。
在師資⽅⾯,南灣中⽂學校特地邀請校內資深⽼師們,專業且教學經驗豐富。 每位⽼師對中⽂教學充滿熱情,對學⽣富有愛⼼。積極尋求新鮮有趣的教學技 巧,以激發學⽣對學習中⽂的興趣,深受學⽣與家⻑的好評!
豐富的課程內容與專業的⽼師,將引領學⽣進⼊語⾔與學識的盛宴!
South Bay Chinese School offers an exciting five-week Online Chinese Summer School for students from Kindergarten to 6th grade. The program consists of Chinese language instruction and related cultural topics, with a focus on conversational phrases and essential vocabularies. Through SBCS Online Summer School Program, students increase their multicultural competence by engaging in interactive and educational learning provided by highly regarded professional Chinese teachers. They use fresh and interesting teaching methods so students will truly enjoy this summer learning activity!
Group/Age:
Basic Class:Kindergarten to 2nd grade
Advanced Class:3rd grade to 6th grade
Ages 5 and up to 15  從初學者5歲到15歲均可報名
For questions, send email to : summer@southbaychineseschool.org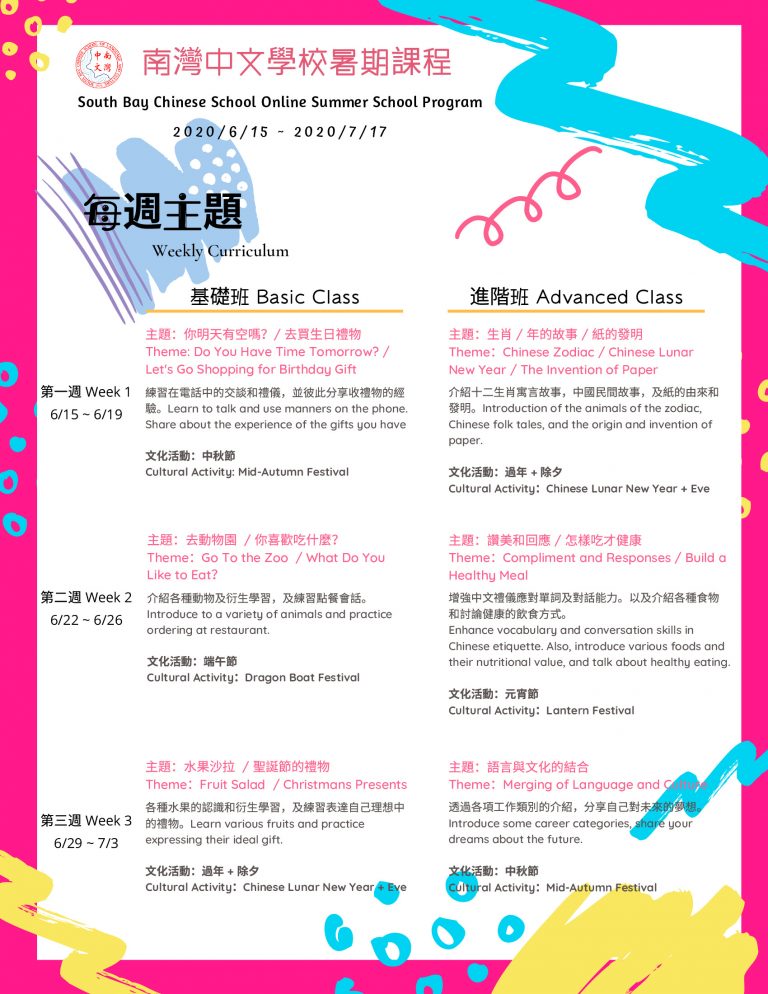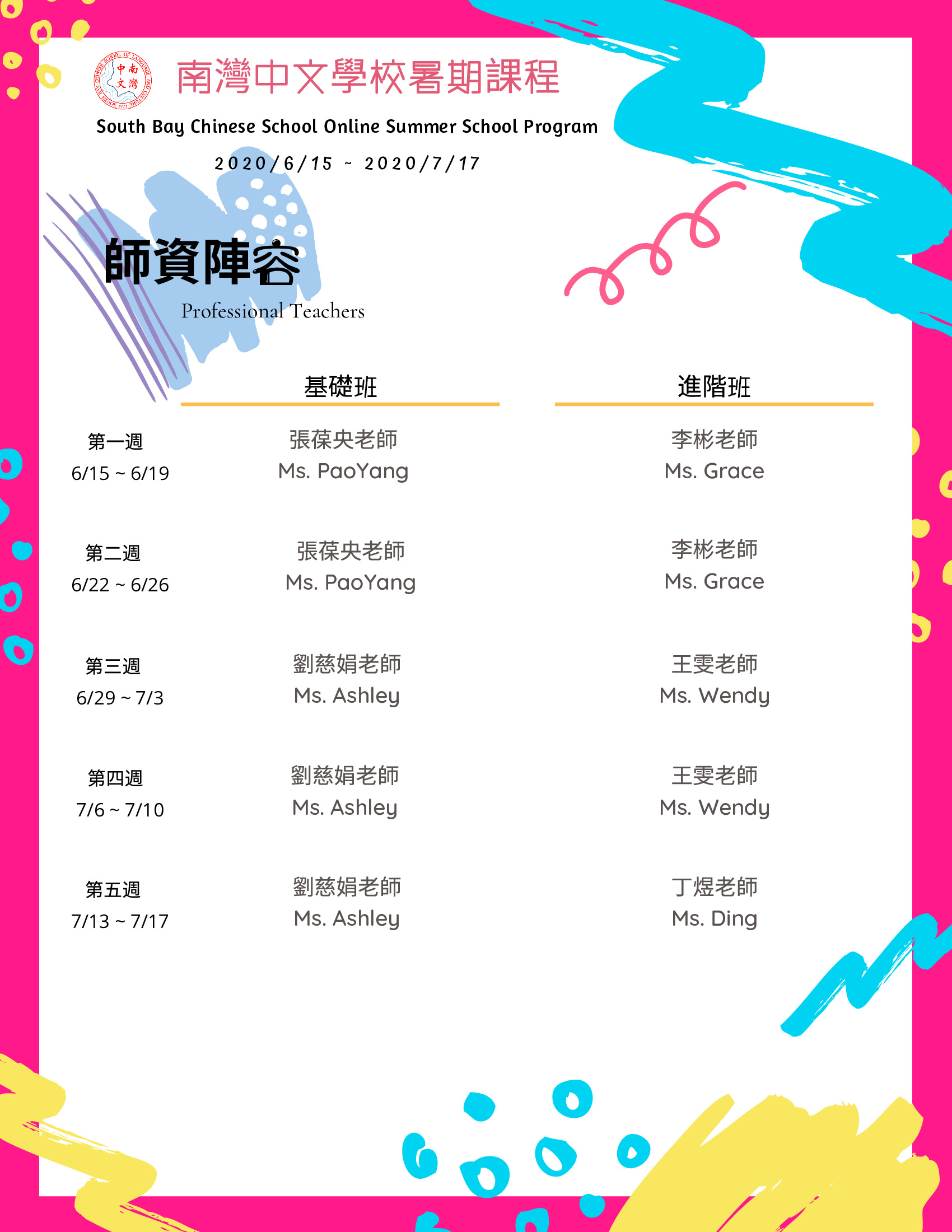 South Bay Chinese School — 南灣中文學校
Location : 27118 Silver Spur Road, Palos Verdes Estates, 90274
Phone: (310) 780-0222
Contact us by email here